Features
TECHNICAL INFO: FL Product Approval #s:
| | | |
| --- | --- | --- |
| 6.8 ACCORDION |   | FL13757.1-R-9 |
|   |   |   |
| 6.8 STREAMLINE |   | FL13757.2-R-9 |
|   |   |   |
| FULLVIEW BAHAMA SHUTTER |   | FL13434.1-R-8 |
|   |   |   |
| COLONIAL SHUTTER (EA) |   | FL16219.1-R-5 |
|   |   |   |
| FABRIC SHUTTER |   | FL17003.1-R-8 |
|   |   |   |
| 44MM ALUMINUM ROLL-UP SHUTTER |   | FL14235.2-R-8 |
|   |   |   |
| .050 ALUMINUM STORM PANEL |   | FL12856.1-R-7 |
|   |   |   |
| SAFETY EDGE & POLYCARB PANELS |   | FL12856.2-R-7 |
---
Resources
National Accreditation & Management Institute (NAMI) Product Certification Stickers - Explained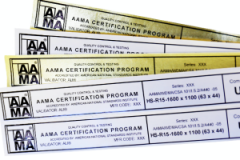 The National Accreditation and Management Institute (NAMI) is an independent grading agency, founded in 1989, which provides third-party certification and inspection services to the fenestration industry. 
The companies who participate in NAMI's product-certification programs are dedicated to producing products which comply with industry standards. 
This program has been developed based on the parameters defined by the Department of Housing and Urban Development (HUD) and the American National Standards Institute (ANSI).
Unlike the National Wood Window and Door Association (NWWDA) - which only covers wood products - or American Architectural Manufacturers Association (AAMA) - which covers other selected products - NAMI certifies all types of fenestration products, including wood, aluminum, vinyl, fiberglass and any combination thereof. 
Certification through NAMI is only valid when the product bears the NAMI Certification Label. The Certification Label will indicate the standard to which the product was tested. 
The product code or name listed on this Certification Label allows any concerned party to trace the facility that manufactured the product, the grade or performance level that was achieved in testing, the series or model name of the product and other pertinent product information.
*
(Excerpt from NAMI Certification Programs Procedural Guide)
...
2.9.1 
Upon issuance of approved certification status, the licensee has the ability to label the approved certified product. The licensee cannot claim approved certification status unless the product bears a NAMI approved certification label.
2.9.2 
NAMI Certification Mark is a registered certification mark with the U.S. Patent Trademark Office. All certification labels must be ordered through NAMI or through a NAMI approved printing agreement.
2.9.3 
The permanent certification label supplied by NAMI provides consumers with traceability of the manufacturing location. Labels must be applied at the manufacturing location. Special written permission from NAMI is required if a label is to be applied at any location other than the manufacturing facility.
2.9.4 
Labels must be applied on the certified product where it can be read when the product is either in an open and/or closed position. The product is not considered a certified product if a certification label is placed in an area that would require the product to be disassembled or uninstalled to read it.
2.9.5 
The certification label or the certification mark shall only be applied to products authorized for NAMI Certification.
...